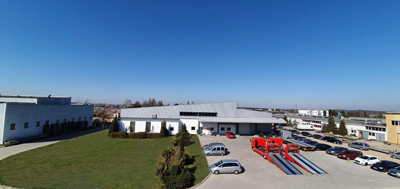 EUROTECHNIK is located in Sępólno Kr. at ul. Przemysłowa 13. We welcome you to our website. Thank you in advance for your interest in our company, we would like to present a brief description of our company to those of you who do not know us yet:
We are a company operating in the Polish automotive industry, we specialize in the reconstruction and modernization of vehicles of different brands according to customer needs. 
We perform: 
steel hydraulic offset platforms of the technical capacity from 2 to 20 tons
aluminium hydraulic offset platforms the technical capacity from 2 to 5 tons
city pick-up trucks of technical capacity from 1 to 5 tons
pick-up trucks for heavy equipment with the technical capacity to 30 tons
towing booms of technical capacity from 2 to 30 tons
fittings
We want to point out that largely of our products are on a very demanding European market. Therefore, we constantly care about the quality and durability of our products such as:
structures are made of high quality steel, often imported from Germany,
hydraulic system components such as valves,
winches, hoses, filters, couplers and fittings are mostly imported from renowned Italian companies
paints used in the process of painting are two-component acrylic paints
wireless remote control kits are imported from the best European companies. 
We have the necessary nominal capital, years of experience, good technical support and qualified management and technical team. EUROTECHNIK is able to perform the most difficult orders, while maintaining the high level of quality and timeliness. 
We are able to perform each car modernisation or rebuilt project in accordance with regulations, guaranteeing appropriate documents for registration and valid MOT certificate. 
Recognizing the constantly performing progress in the automotive industry, production technology and sales methods, we constantly improve our knowledge, modernise our business, we care about our employees' skills development, improving production technology adapting it to the needs and requirements of car importers and users of our products.
Keeping in mind the needs of our customers, in addition to production and sales we provide after sales service.

_______________________________________________________________________________